For this morning's fieldtrip, Noni Andrew, Cookie, Lily and I went to the Friends of the Library Book Fair. Of course we all walked away with bags of books. On reviewing our purchases, Noni decided one of her books just wouldn't do and needed a little correction...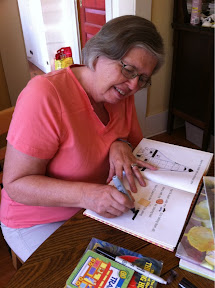 Gleefully, she giggles and says, " I'm writing in a library book. I always wanted to do that!"
Bag of books: $11.75
Watching your mother deface a library book: priceless!