Last weekend, Auntie Marnie got to visit with Grandma Jan--who sent back a bag full of treasure for Lily. In the bag was this very cute Raggedy Ann doll, which Lily has--in try Lily fashion--dubbed "Baby." Baby Ann has had a busy morning...
Upon discovery...
...she's had to sit at the table like a big girl...
...eat a Cheerio snack...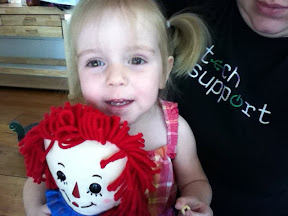 ...sit in Lily's lap just like Lily does with Mommy...
...Thank you Grandma for Raggedy Ann!!