Yesterday, Lily got to eat lunch at Hickory Street Cafe and have tea with a bear!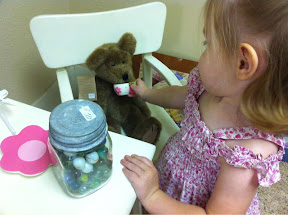 Lily also got to test puppy pillows at Sam's Club with Mommy.
And then Lily got to nap under the cart while Mommy and Noni shopped. At least five people stopped us to express their wishes to be small enough to be pushed, stretched out full length under the cart while their companions bought stuff.
Definitely a great day!